Stamping is a unique service that breathes life, personality and allure into otherwise mundane sections of paving. Stamping can incorporate virtually any color, pattern, design, branding or additives to meet your aesthetic requirements, making it applicable for virtually any situation!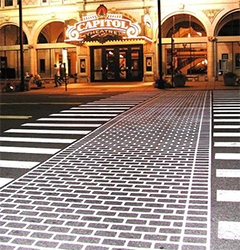 After your design is perfected and implemented by talented and seasoned professionals, the asphalt is then covered in epoxy coating to further protect the integrity of the design. The result is a segment of paving that will stand out beautifully and last for years to come!
Asphalt Services for Every Application
Custom patterns and logos can be created for a widespread array of applications, for residential, commercial, industrial and municipal environments. At Streetscape Solutions, we have a bevy of experience in stamping crosswalks, parking lot designs, medians in traffic, intersections, walkways and more. We've worked within subdivisions, city streets, apartments, retail environments, new construction, re-construction and beyond.
Our asphalt services regarding stamped and specialty asphalt are extensive and encompassing, including:
Street prints
Thermoplastic coatings
Custom asphalt design
Textured asphalt
Imprinted asphalt
Stamped driveways
Stamped crosswalks
Decorative crosswalks
Stamped medians/islands
Traffic calming stamping
Community branding
Bike boxes
Inlaid thermoplastics
Enhanced intersections
Bring your design to life
Thanks to the tenured experience of the professionals at Streetscape Solutions, we can bring just about any design to life in asphalt giving you an outlet for creation that's simply unsurpassed. Whether you need your company logo stamped into the asphalt in front of your headquarters or you're looking to add a splash of color to the façade of the asphalt around city hall, our asphalt services are here to help!
Contact us and consult with our personable and knowledgeable professionals regarding asphalt in Salem, Mona, or Santaquin, UT by calling 801-372-8800. We're happy to speak with you at length about your needs and your vision as we work to outline the plan for your custom asphalt design.