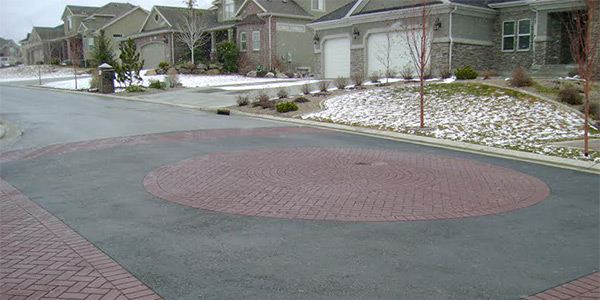 Streetscape Solutions is proud to offer decorative driveway paving and pavement designs throughout the US. Through a wide array of specialty services, including thermoplastic inlaying asphalt for bike and walking paths, and more, we're able to create beautifully unique paving designs for residential, commercial, and municipal clients. We can lend an expert eye to your commercial or municipal project to help determine the right pavement design for the job.
Decorative bike and walking paths
Here at Streetscape Solutions, we're dedicated to improving visibility and navigation of bike lanes and walking paths. Our decorative asphalt bike and walking path designs help municipalities and developers improve the clarity and understanding of their signs as well as enhance the look of these important accommodations. Our services for bike lanes and walkways throughout Salem, Mona, and Santaquin, UT include:
Colored bike lanes and walking paths
We can create color-designated bike lanes and walking paths that stand out from their surroundings. These designations help cyclists to stay within the parameters laid out for them and keep traffic privy to the boundaries that allow for safe road sharing.
Enhanced visibility bike lanes and walking paths:
Made with thermoplastic inlays to help improve visibility in all conditions, at all hours of the day, these bike lanes and walking paths are perfect for areas of low light and high traffic. The high-quality, polished look they provide adds a superior appearance to trails, paths, and city-owned properties.
Decorative driveway paving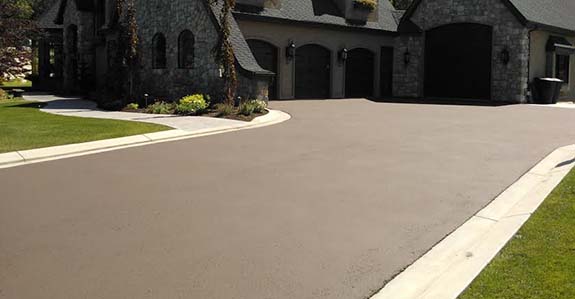 For residential customers who want to add a bold look to their property, increase curb appeal and distinguish themselves amongst the crowd, decorative driveway paving is essential. Colorful driveway paving and unique pavement designs allow you to roll out the red carpet to your home and the rest of your property, so you can really wow your guests!
From family crests to driveways that look like they were crafted by the stonemasons of yore Streetscape Solutions works hand in hand with you to understand your vision and bring it to life, and we're happy to bring quality driveway paving and pavement designs to your home or business.
Our brands
Producing the very best custom asphalt and parking lot designs means using one part quality workmanship and one part quality products. To that end, our experts rely on only the very best brands, including:
StreetPrint
TrafficPatternsXD
Ride-A-Way
Cycle Grip Maax
Contact us
If you have questions regarding our parking lot designs or want to consult with one of our professionals directly about asphalt services, please contact us today by calling 801-372-8800.