Streetscape Solutions is a full-service asphalt provider in the Salt Lake City region. We are dedicated to providing superior craftsmanship and complete customer satisfaction. Our team can assist you with your asphalt needs, from decorative asphalt and pavement painting to residential and commercial stamping services.
Streetscape Solutions is the company to contact if you want to see your dull asphalt transformed into something bolder and more appealing! As the leading asphalt supplier and asphalt stamping service in the industry, we are pleased to offer you professional asphalt services that will turn your asphalt and pavement paintings into true works of art.
Our company specializes in decorative asphalt and pavement for commercial, municipal, and residential clients. Our experts can create a finished product in any color scheme, pattern, or design, and you will be pleased to display it for many years. Whether your motivation is purely aesthetic or practical, know that we are prepared to assist you in pursuing more attractive asphalt.
Asphalt Stamping Services
Streetscape Solutions is a full-service asphalt stamping company, offering everything from asphalt stencils to full-size street signs. When you work with us, we provide a centralized resource for your stamping requirements. Whether you need assistance with design, installation, or maintenance, we have the resources to make your commercial or residential space look its best.
We've established ourselves as one of Salt Lake City's and the region's most trustworthy and dependable asphalt stamping service providers. Our team comprises specialists with decades of experience working with asphalt and other materials used in the construction industry. They can turn any project into reality, whether stamping parking spaces for your business or creating an attractive walking path in your front yard so neighbors can enjoy it too.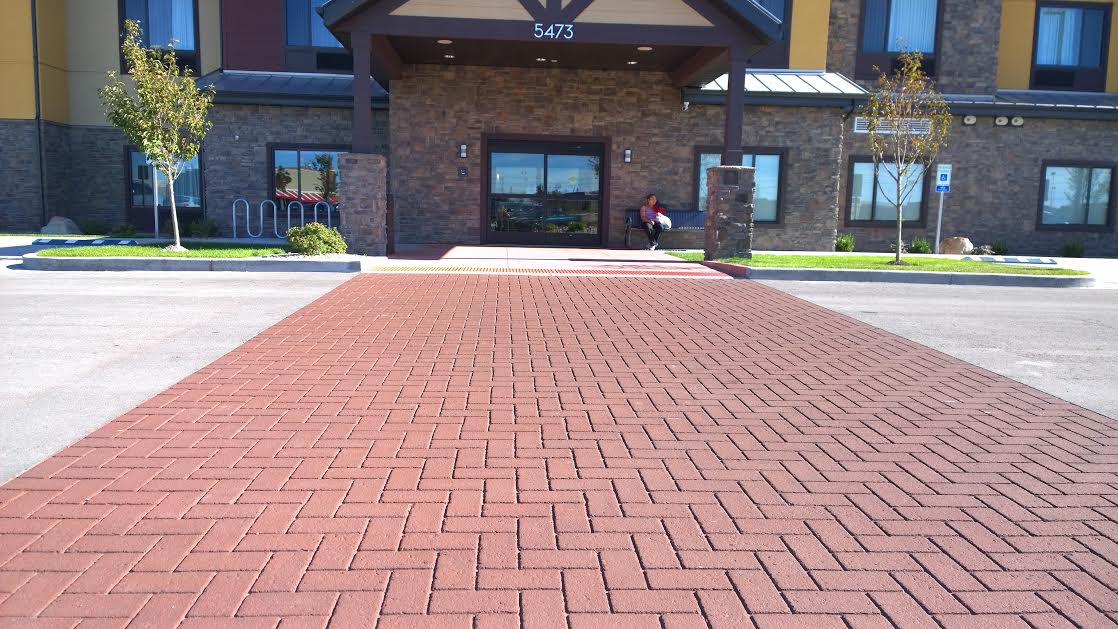 Our goal is always to create lasting impressions on passersby, inspiring them to stop and notice what you're doing there! Whether it's a new building or remodeling an old one, we can help make sure people remember it when they walk by it every day!
Green Bike Lane Services
Green bike lane asphalt stamping services are becoming increasingly popular to make your street safer for bicyclists. Our professionals will work with you to determine the best location and design for your green bike lanes. Working with a professional asphalt stamping service ensures that your green bike lanes will be properly installed and maintained throughout their lifespan.
Stamped Asphalt
Our asphalt stamping services are performed by professionals who use a paver tool to imprint the design into the asphalt. We can create durable and long-lasting patterns on asphalt driveways, parking lots, and other outdoor surfaces. The patterns can be created using different colors of asphalt to create different looks. Patterns can also be created using colored stones or other materials, which are then embedded into the imprinted asphalt. Stamped asphalt is commonly used in commercial spaces such as malls and hospitals because of its durability and ability to resist weathering.
Colored Asphalt
Colored asphalt stamping is a unique method of creating a pattern on asphalt that appears to be painted. The process can add color to an existing surface or create a new design. Asphalt stamping is inexpensive to add color, texture, and style to driveways, parking lots, bike paths, and more. It's an excellent option for revitalizing the look of your home or coming up with a stunning design that sets it apart from the rest.
Is stamped asphalt durable?
Stamped asphalt is durable and can last for years if properly maintained. The longer you keep your stamped asphalt, the more it will cost you to maintain it.
The maintenance of stamped asphalt can be done by yourself. If you want to save some money, you can hire a professional stamping company to do it for you. But keep in mind that professional services are expensive and may not offer much savings in the long run because they will charge extra fees if they find any problems with your current stamped asphalt.
Stamped asphalt looks great on driveways and parking lots because of its texture and color choices, but it does require regular maintenance to keep it looking good and performing well.
How long does stamped asphalt last?
Generally, the more you use your driveway, the shorter its life span. That's because the more traffic your driveway sees, the more wear and tear it will take. Stamped asphalt is durable enough to withstand a lot of wear and tear if it's properly installed by a licensed contractor and maintained regularly. It's also important to remember that environmental conditions play a role in how long stamped asphalt lasts. The hotter and wetter your climate is, the less time your new driveway will last before needing repairs or replacement.
Stamped asphalt can last 30 years or more without any problems if it is properly maintained by a licensed contractor and kept up with regular cleaning and sealing. It is also crucial for homeowners to be sure that their stamped asphalt driveways are installed by professional contractors who are licensed to install them in Utah.
Can you get colored asphalt?
Yes, you can get colored asphalt.
Asphalt is typically black. But if you are looking for colored asphalt, you are not alone. Asphalt is a popular driveway choice and can help your driveway stand out from the rest. Colored asphalt is available in various colors.
Colored asphalt is also an excellent option for those who want to add color to their yard without having to repaint their entire house every few years. This type of pavement will help add some character to your home while keeping it safe from weeds and other issues that could otherwise damage your yard.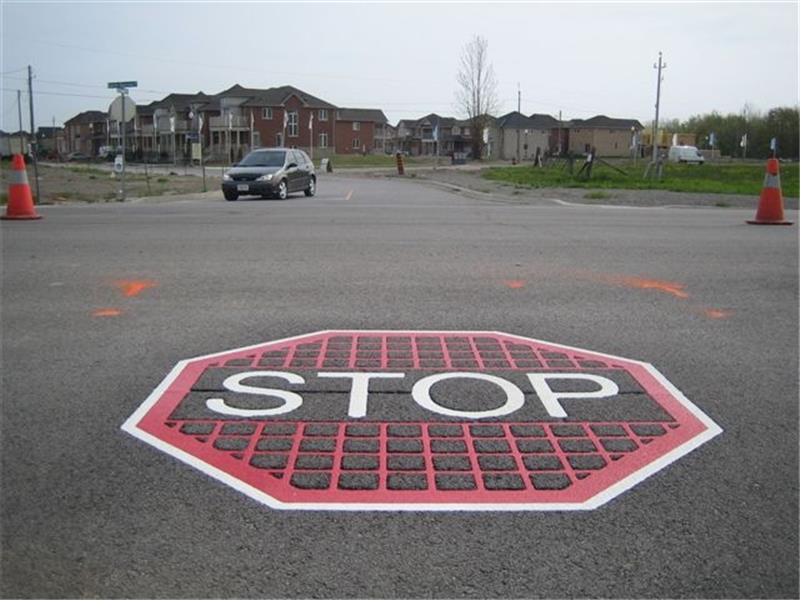 Need Asphalt Stamping in Salt Lake City, UT?
If you're looking for Asphalt Stamping in Salt Lake City, UT, you've come to the right place. At Streetscape Solutions, we're dedicated to providing our clients with the best possible affordable service. We understand how demanding it is to look for Asphalt Stamping in Salt Lake City, UT, so we work hard to provide the best service possible. We'll take care of your needs and answer any questions or concerns you may have.
Our stamping team has years of experience in the field, so we can handle issues during your Asphalt Stamping in Salt Lake City, UT project. From start to finish, we'll be there for every step, from inspection through installation and maintenance.